Frequently bought together
Pixie Combo Kit
Regular price

$72

Sale price

$39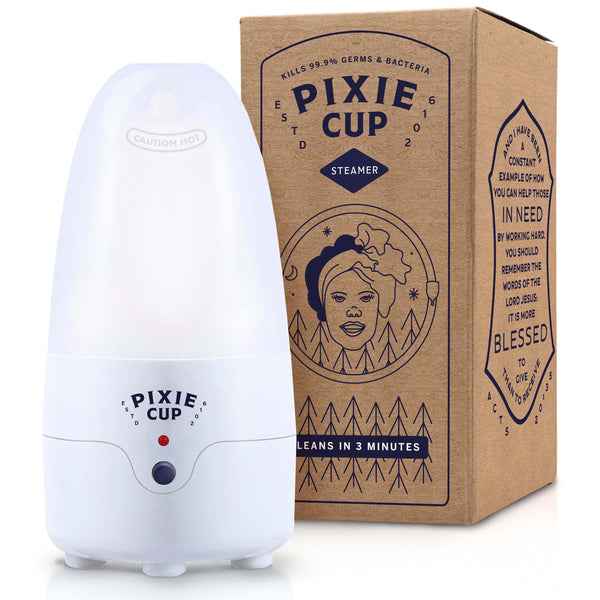 Regular price

Sale price

$24
It comes with everything you need to become a menstrual cup user!
Learn More About Pixie Combo Kit
IT HAS EVERYTHING YOU NEED TO START YOUR PERIOD CUP JOURNEY.
You get a small cup for your light days and a large cup for your heavy days. Plus our all-natural cup wash, lubricant for leak-free insertion, convenient cleaning wipes, and our famous public-restroom collapsible carry cup. 
SWITCHING TO A CUP CAN BE SCARY, WE GET IT!
That's why we designed this easy-to-use kit. It has everything you need to make using cups easy-peasy. And we guarantee our products inside and out. We even have a leak-free guarantee on our cups or your money back. Sound too good to be true? Just take a peak at our reviews... we have the best customer service out there!
SAVE YOURSELF MONEY & SAVE THE PLANET! 
Our cups last for up to 10 years so you won't have to spend another dime on pads or tampons. Plus you'll save our planet from 75 pounds of landfill. It's a no-brainer win-win kind of purchase. Just ask any friend who's already using a cup. ;)
Pixie Combo Kit Features
Everything but the Cup
This kit includes everything you need to take care of you and your cup while on your period.
Compatible
Compatible with every brand of silicone Menstrual Cup or Disc on the market.
I got this kit because I wanted something easy to bring with me for when I travel and this is perfect!
Why to buy Pixie Combo Kit
At Pixie Cup, we're committed to making cup-life simple. Not sure what size is best? We've included two sizes - one for your light days and one for your heavy days. Inserting your cup should be smooth, so we included our travel lube. Using your cup in public shouldn't give you anxiety, so we included our wipes and carry cup to keep you clean on the go. Our Gel Wash is the perfect gentle + effective cleanser to take care of you and your cup.
Specifications
What's included in the Classic Pixie Kit?

The Pixie Classic Combo Pack (includes 1 Small and 1 Large Cup)
Public Restroom Carry Cup (it's also a microwavable sterilizing cup)
Pixie's Gel Wash (this keeps your cups clean inbetween uses)
Pixie Cup Lubricant (the best way and easiest way to insert a cup)
Pixie Wipes (use them to wipe your cup, or hands, or anything else for that matter)
What are the Small Pixie Cup Specifications?
This cup is ideal for your light to normal flow days
Capacity: 25ml (2.5 super tampons)
Rim circumference: 1.68 inches
How about the Large Pixie Cup Specifications?
Ideal for your normal to heavy flow days
Capacity: 30ml (3 super tampons)
Rim circumference: 1.81 inches
What are the ingredients in each product?
Thanks for asking! We strive for natural, high quality and clean ingredients in all of our products!

Pixie Gel Wash Plant-Based Ingredients:
Distilled water
Soap nuts extract: a cleansing agent that is antimicrobial and anti-inflammatory
Coco-glucoside: a natural cleansing agent derived from coconut sugar
Honeysuckle extract: antibacterial, plant-based preservative
Khu-seng extract: anti-inflammatory and anti-irritation
Amur cork tree extract: conditions the skin and is anti-inflammatory
Food-grade sodium chloride: softens and boosts cleaning performance
Corn extract: purifies and soothes
Lactic acid: natural preservative
Rice bran extract: cleanses, softens, and moisturizes skin
Olive oil: provides vitamin E and softening properties
Menthol: cooling and refreshing agent
Citrus extract: adds a refreshing scent
Xanthan Gum: a thickening agent
Pixie Lube Plant-Based Ingredients:
Plant Cellulose: a thickener
Purified Water
Fructus Forsythiae: a plant-based preservative
Zanthoxylum Bungeanum Fruit Extract: antibacterial and anti-inflammatory
Pixie Wipes Ingredients:
Pixie Wipes are 99.8% water wipes made from naturally derived fibers (viscose rayon) and purified water. We use pure water wipes because of the delicate nature of the wipes.
The other 0.2% of ingredients include:
Benzalkonium chloride- Sterilizer
2-methyl-4-isoth isothiazolin-3-one- Sterilizer
Lodopropynyl butylcarbamate- Sterilizer
Glycine- Sterilizer
Propylene Glycol- Solvent
Polyhexamethylene biguanide- Sterilizer
What if the included Pixie Cup doesn't work for me?
If you have issues with our Pixie Cup, please email us at info@pixiecup.com. TMI always welcome! We will troubleshoot with you to find a cup that works better for your lifestyle and send it free of charge.

Can menstrual cups be used with an IUD?
Yes, a Pixie Cup can be safely worn with an IUD. However, as with all vaginal products, there is a slight chance of IUD dislocation. We recommend talking to your gynecologist about using your Pixie Cup with an IUD and possibly having your IUD strings trimmed slightly.
What About Your Buy One Give One Program?
Every time you purchase a Pixie Cup, a cup is donated to a woman in need. When you buy our Pixie Cup Kit, your buying two cups which means you are also donating two cups. Thank you for helping us help others. Here at Pixie, our goal is for every woman to have access to period products, and you can help make that difference! With help from people like you, we've donated hundreds of thousands of Pixie Cups so far! You can read more about our Buy One Give One program here.
Please note: Our website ships to the contiguous US only. To purchase Pixie Cup products elsewhere, please visit Amazon. Can't find us in your country? Please let us know!