Frequently bought together
Pixie Sophie Steamer
Regular price

Sale price

$26
Regular price

Sale price

$12
I retired my spaghetti pot! Hah! No more boiling on the stove. It's so quick and easy to use. A MUST-HAVE for any disc user.
Learn More About Pixie Sophie Steamer
Our Sophie Steamer works its magic in just 3 minutes to deeply sterilize your menstrual cup, discs, or any other small silicone objects. With an automatic shut-off feature, you can have peace of mind knowing that efficiency and safety are always a top priority. The larger capacity of our Sophie Steamer allows you to sterilize two cups at once! Plus, the sleek hinged-lid design and optimized button allow you to turn it on and off and access your cup whenever you're ready.
Invest in the Sophie Steamer today and experience the convenience, efficiency, and peace of mind it brings. Say goodbye to boiling and hello to effortless clean!
Pixie Sophie Steamer Features
Capacity
Sterilize two cups at a time
Discreet
Perfect for shared living spaces like dorm rooms and apartments.
Preserve Your Cup
Safely and effectively care for your cup without compromising its quality.
Light
Light indicates when the cycle is complete.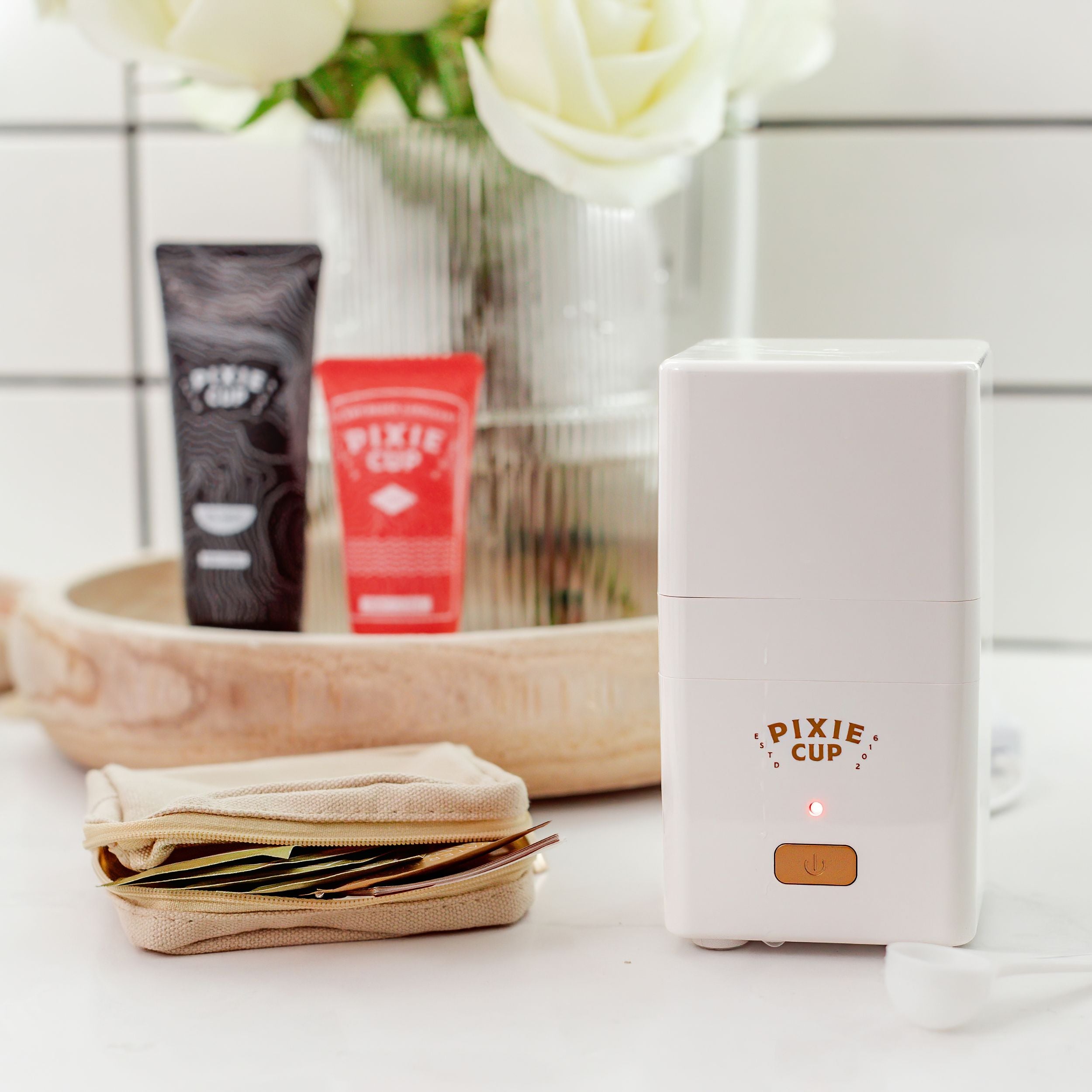 Works amazingly & is SO CUTE! My husband thinks this is a diffuser - it's practically bathroom decor.
Why to buy Pixie Sophie Steamer
I mean, you can keep boiling your cup in your spaghetti pot if you want...But if you're ready to make cup life as simple as possible, the Sophie Steamer is for you! It's small and discreet design allows you to leave it on your bathroom counter without raising eyebrows. Never leave the bathroom to sterilize your cup again!
Specifications
Voltage is from 110 - 240V, 50/60Hz, and the power rating is 99W.
Contents
1 Sophie Steamer with removable base
1 Power Cord
1 Measuring Spoon
1 Drying Cloth
How Pixie Sophie Steamer works
Steam will disinfect and kill up to 99% of bacteria with at least three minutes of contact at a minimum temperature of 212° F.
Generally speaking, water boils and turns to steam at 100°C (212°F). After water changes from a liquid to a gas, it can continue to heat up and become much hotter than water in liquid form instructions:
Open the lid and use the provided measuring spoon to add 1 teaspoon of purified water to the center of the steamer.
Place your Pixie Cup or Disc stem side up on the cup stand inside the steamer.
Plug in your steamer, then press the start button. Be careful, as the steamer gets very hot.
Wait until the indicator light indicates that the steaming cycle is complete.
Viola! Rinse and use.
Frequently Asked Questions
What is the Sophie Steamer voltage?
Voltage is from 110 - 240V, 50/60Hz, and the power rating is 99W
How long is the Sophie Steamer cycle?
It averages around 3 minutes but should run a full minute to sterilize properly. The actual running time will vary based on the amount of water put inside the Sophie Steamer. The more water, the longer it will run. Once the Steamer shuts off, there shouldn't be any water remaining (besides residue).
Can the Sophie Steamer fit a disc or a different cup?
Yes, the Sophie Steamer can fit any brand of menstrual cup or disc. You may have to tilt the disc to fit it under the lid.
How does the Sophie Steamer sterilize?
Our Sophie Steamer boils water before steaming, reaching a temperature of at least 100 °C (212 °F), enough to break down the bacteria to "kill it" so it cannot grow. However, once the cup is removed from the Sophie Steamer, it is exposed to the elements around it, which will technically contaminate the cup. That is why we recommend steaming your cup immediately before using it at the beginning of your cycle (make sure it has time to cool off).
Is my Sophie Steamer malfunctioning?
We offer a 100% Happiness Guarantee on all of our products. Please don't hesitate to contact us at info@pixiecup.com
How to Clean Mineral Build-Up in the Sophie Steamer?
Fill the Sophie Steamer with distilled water and a teaspoon of white vinegar. Run it for 5-10 minutes to disperse the vinegar through all system components, then empty the reservoir. Then, use a cotton swab dampened with white vinegar to tackle any other build-up along the reservoir walls. Air dry and then run a normal cycle.
Is the Sophie Steamer FDA Registered?
Yes, all Pixie Steamers are FDA registered.
What Certification do you have?
All of the Pixie Cup Steamers are EPA registered, meaning the Steamers are environmentally safe. In addition, all of our Steamers are also CE certified.
Can I store my menstrual cup or disc inside the Sophie Steamer?
After sterilization, users can leave the lid open to allow the cup or disc to air dry inside the Sophie Steamer. The hinge lid design allows for easy opening and closing, and leaving the lid open promotes airflow to aid in drying.
The removable Cup Stand can also serve as a drying stand which can be removed and placed on a clean surface. This allows a stable and elevated platform for the cup to dry thoroughly, ensuring proper ventilation and reducing the risk of moisture buildup.
Is the Sophie Steamer BPA-free?
Should I wash my menstrual cup or disc before using the Sophie Steamer?
Yes. Please wash the menstrual cup or disc with a gentle soap (like Pixie Wash) before using the Steamer.
What is the Sophie Steamer made out of?
Please be assured that our menstrual cup steamer is made with high-quality, BPA-free polypropylene (PP) plastic, which is safe for use with heat and does not leach harmful chemicals. In fact, PP plastic is commonly used in food containers and is considered one of the safest types of plastic for food contact.